How Good Are My Old Dyes?
How good are my dyes? This is a question I am often asked, and a few months ago, Kay Sorensen emailed me with just that question. She was given some older dyes, and wanted to see what she could expect from them. I outlined for her a simple process to check the strength of the dyes, and she is sharing the results on her blog today.
Here is what I shared with Kay–and now you!
Start with a piece of pfd that weighs 20-25 grams (which will be a smallish fat quarter). Label it with a code corresponding to the dye jar you are testing.

Weigh 2 grams of dye into a container, add 60 ml water to dissolve, then add ¼ tsp of salt. If you don't have a scale, use ½ tsp of dye powder.

Stir again, and add  fabric.

Add 1 tablespoon plus 1 teaspoon (20 ml) soda ash solution, and stir.

Let batch overnight, or use a dye-dedicated microwave for about 20 seconds per piece.
The exact depth of shade is not important, since you are not trying to match, only compare. So the critical thing would be to have all the pieces of cloth the same size and kind, and apply the dye to each in the same way, and batch the same length of time (or microwave the same).
Grams versus spoons—This is a topic I will take up another day. However, spoons of dye can vary widely from jar to jar. The dyes are not consistent from jar to jar by volume (spoons), only by weight (grams), so a true comparison can only be made by weighing the dye.
Since Kay's jars of dye were a variety of mixed colors, having precise comparisons is probably not very important for her. But knowing how much dye to use for a given result is very useful information, so the tests she did will make a handy reference for her whenever she is using those colors. Curious? Check out Kay's results at her blog.
Testing My Own Dyes
Whenever I am making new color samples, I always use the freshest dye possible for consistency's sake. When I am dyeing yardage for myself, I will use my freshest dyes when I need to match a color, or my older dyes if I am just playing and dyeing serendipitously.
I am currently planning a new series of work, so I thought it might be a good time to test the dyes and take a look at how they are faring. It will be useful to know which can be counted on for a close match, and which to use in a more freeform way.
Besides that, a few years ago I had the geeky idea of keeping some old dye around just for testing purposes. I admit to very weird ideas at times!
With this project in mind, I have actually been saving jars of dye for a long time, never quite using up the dye in any particular jar. The jars of old dye are starting to take over my space however and it's about time to reduce my hoarding tendencies.
I use primarily yellow, red, and blue dyes (pun intended), most of which are pure, unmixed dyes. (The warm reds are officially mixes but I find them quite useful.) From these I make thousands of colors!
All of the samples below were dyed at about a 10% depth of shade, which means that the amount of the dye is about 10% of the weight of the fabric.
The Control colors were dyed from fresh dye, as a reference for what is possible from these colors. Below the Controls are the results using dyes going back as far as 2007. The next most recent dyes, purchased in 2012, were just over a year old when they were tested after Thanksgiving in 2013. Prochem dye names are listed.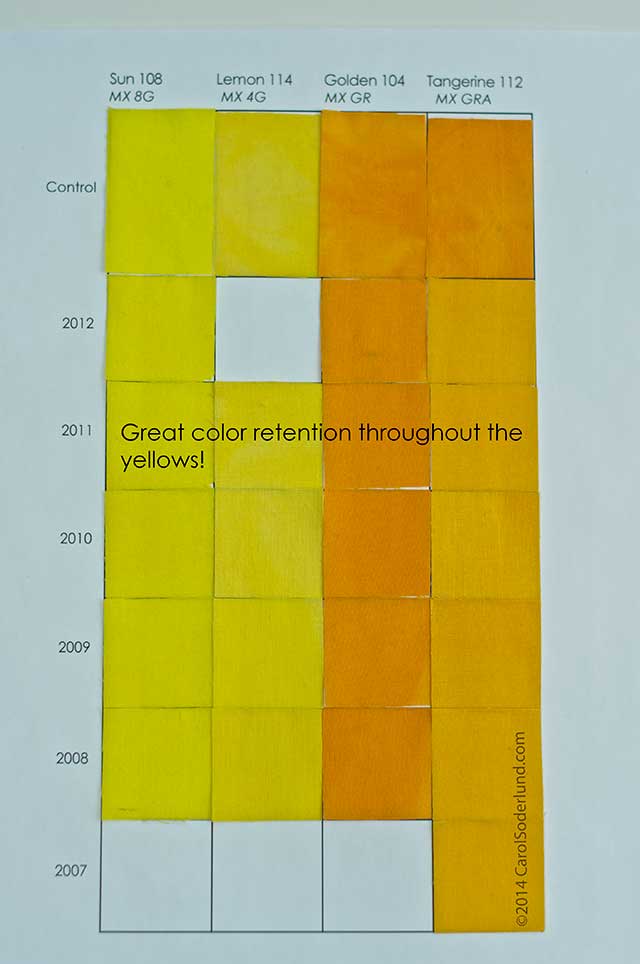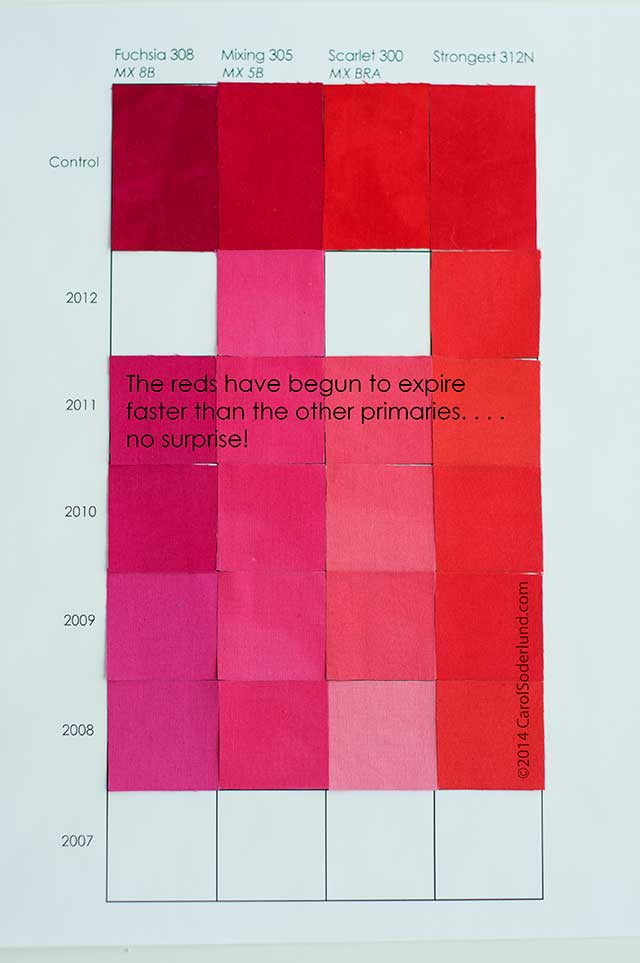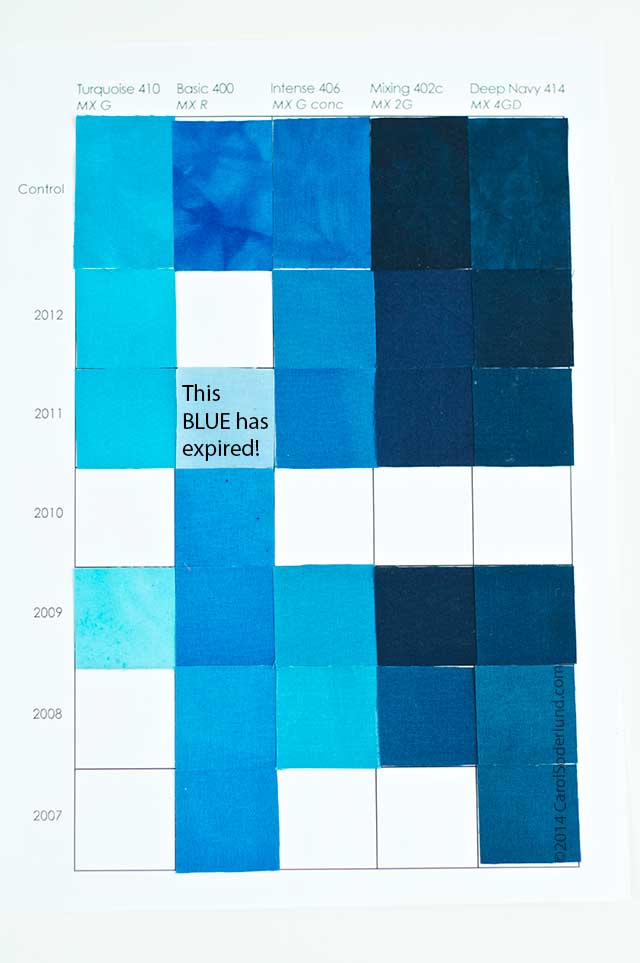 As you can see the yellows held up really quite well. The blues are not too bad, but the reds are where I lost quite a bit of color, even in dyes only a year old. This makes a certain amount of sense, since red dyes are the first to react. When dyes go off it is because they have reacted with the moisture in the air or been degraded from heat.
You can see that for the most part, the older dyes have lost more color than the newer ones–BUT NOT ALWAYS! Very occasionally, a dye may go off before its time, (see the Blue Page) but that happens rarely…..
My dyes are stored in my Dye Studio, a.k.a. my basement, so heat is not a problem. However it can be a little humid down there–especially in the summertime– even though I run a dehumidifier. Therefore I'm quite careful to screw the caps on the jars tightly.
Though this project took a while to do, it was interesting to see the variations in the older dyes. There is still lots of fun to be had with the old colors, and I am inspired to use some of them before they —or I— get any older!
What is the oldest dye you have ever had some fun with? I would love to hear about it in the comments!